Discover Your Watershed education programs bring together elements of exploration, recreation, volunteering and education to help residents and visitors of the Middle Fork Watershed experience and connect with the forests, prairies, mountains and rivers in our area. These programs and activities are designed to increase local knowledge about our restoration efforts, habitat, wildlife and water quality while fostering a sense of stewardship and wonder for the natural beauty (and bounty) of our amazing watershed. From forest and restoration tours to rafting adventures and volunteer stewardship opportunities, there are all sorts of amazing ways to "Discover Your Watershed." Check our Watershed Events Calendar for upcoming events!
Join one of our restoration tours or mushroom or wildflower forays to learn more about habitat restoration and the plants and animals of our region.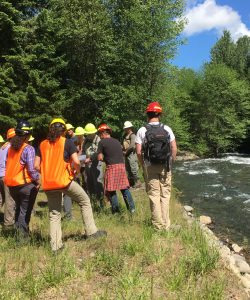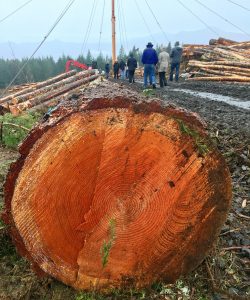 Raise a toast to the Middle Fork watershed at one of our local Science Pub presentations. Learn about all sorts of topics, such as forest fires, fluvial geomorphology, salmon migration and plants and animals specific to our region! Our Science Pubs rotate around the watershed – if you are interested in having us provide a Middle Fork Science Pub at your establishment, please contact our outreach coordinator by email at gale@middleforkwillamette.org or call our office at 458-215-8200.
Nothing quite beats the enjoyment of hiking in the beautiful old growth forests of the Middle Fork or basking in the warm sunshine and cool waters while floating the river… then savoring the satisfaction of giving back through native plantings, invasive removal projects, plant surveys and citizen science bird counts!
The Middle Fork Willamette Watershed Council participates in special events from time to time as a community partner, celebrating the human connection to nature. If you are interested in working with us to bring elements of our "Discover Your Watershed" programs to your events, please contact our outreach coordinator by email or call our office at 458-215-8200.