MFWWC Staff
Gale Darling
Community Engagement Coordinator
Pronouns: She/Her
Gale joined the Middle Fork Willamette Watershed Council as the Community Engagement Coordinator in October 2017 but served on the Board of Directors since 2016. A graduate of the University of Oregon Certificate in Nonprofit Management, Gale is excited to bring her expertise in community engagement and fundraising to the team. A native of the Northwest, Gale has long been surrounded by water. After living in Bend for several years, she is happy to be back on the wet side of the mountains.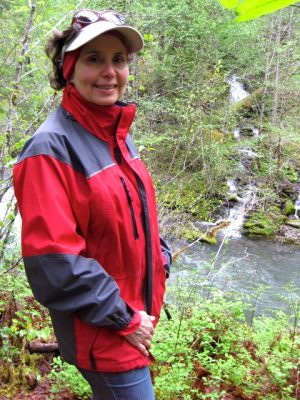 Karen Sarno
Operations Manager
Pronouns: She/Her
After living in New York, Chicago, San Francisco and other Bay Area towns, Karen finally decided to leave the concrete behind and head for green. She and her husband Theo moved to Oregon in 2008 and have never looked back. They enjoy living in downtown Springfield. Karen believes that we need to protect and preserve our natural resources, with water being the most important. To that end, don't be surprised to find buckets in her shower used to collect the cold water while waiting for the water to warm up!  She loves working for the MFWWC and helping to build and educate community about restoration needs and opportunities in the basin. Karen is an active member of Lane County Sheriff's Ground Search and Rescue. When she is not crunching numbers, Karen enjoys walks in the woods, inhaling the negative ions at the beach, gardening, biking, and traveling.
Ka-Voka Jackson
Restoration Projects Manager
Pronouns: She/her
Ka-Voka recently joined the Middle Fork Willamette Watershed Council in October 2020 as the new Restoration Projects Manager. Originally from the Hualapai Tribe in Arizona and most recently coming from the Mojave Desert in Las Vegas, Ka-Voka's work over the years has focused on ecological restoration, Traditional Ecological Knowledge, and anthropogenic impacts in watersheds throughout the West. During her downtime, you can often find her adventuring outside or up to a new project at home. Now relocated in Eugene, Ka-Voka is bright-eyed and bushy-tailed, ready to explore her new home and help improve and steward the lush landscape of the Middle Fork Willamette Watershed!